Support Our Work
New Mexico Community Capital is a 501(c)3 non-profit organization. We exist to support Native business in many stages of its existence, whether they are those who have an idea and need to get their financial "house" in order through greater financial literacy, have a solid idea for a business, or have a business that is up and running and is ready for the next level of growth. We also support tribal governments and economic development groups in their growth strategies as well. We are proud to provide opportunities for success and a better life, through our programs.
We were so fortunate to receive five-year seed funding from the Administration for Native Americans (ANA), a federal agency that was the first to recognize the power and reach of the Native Entrepreneur in Residence (NEIR) program. We also received critical funding through the Minority Business Development Agency (MBDA) to further support the NEIR program and the after-care Community of Practice program for NEIR grads. We are also a recipient of a W.K. Kellogg Foundation grant which has allowed us to take our Financial literacy and Business Basics (FBB) program to local pueblos and tribes. We'll be heading to Michigan to take this same program on the road in 2020. In addition, we are very thankful to have received funding from:
Small Business Association (SBA)

Forest County Potawatomi Foundation

Isora Foundation

Amerind Risk

Shakopee Mdewakanton Tribe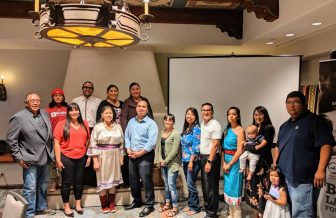 (Santa Ana Pueblo Financial Business Basics participants at their final pitch day)
As we seek to increase our reach across the country, and as our grants sunset, we'll need further help which will enable us to continue to provide mentorship and technical skills to Native individuals, communities, and businesses. Our long-term goal is to be in the top tier for providing culturally relevant, business-focused content that contributes to the well-being of the Indigenous populations that have historically been left behind. We seek to counter a lack of services with an approach that is personal and tailored to each individual or group. We also provide something tangible in the way of laptops for the FBB participants and a stipend for NEIR participants going through the program. It's one thing to provide a skillset, and another to provide the actual tools that support success from the start.
With your contribution you are supporting programs like these. You are contributing to a powerful social return with your investment in our organization. There are many obstacles to economic success in Indian Country: lack of Native business ownership, invisibility and isolation experienced by self-employed individuals, and insufficient experience in business education and experience. With your contribution you are supporting systems that work for both urban and rural populations. You are also supporting systems that are more sustainable and restorative.
You can donate and support the work we're doing by clicking here: Paypal
You can also mail a check or contribution to us at:
New Mexico Community Capital
219 Central Avenue, NW, Suite 200
Albuquerque, NM 87102
Our charitable tax ID number is 20-1798654.
Many, many thanks for any support you can offer, and feel free to forward to anyone that might want to support our cause in empowering Native business.